During the CIIE, Shaanxi Department of Commerce hosted a signing ceremony of "Shaanxi Procurement and Investment Seminar". At the ceremony, Shaangu and Trafigura Singapore signed a project contract worth RMB 2 billion yuan, which was one of the highlights of the "Shaanxi Province Trading Group" in the CIIE. This cooperation adds a highlight to the "huge picture" of Shaanxi's deep integration into the co-construction of "One Belt and One Road", creation of a highland for inland reform and opening up, acceleration of the formation of the channels, trade and logistics hubs, and important industrial and cultural exchange bases aiming to Central Asia,
South Asia and West Asia, and construction of a high-efficiency, low-cost and excellent-service international trade channel in inland areas.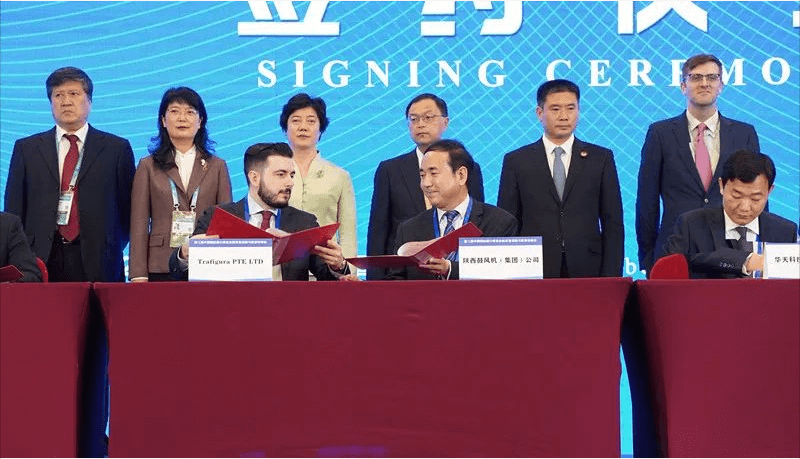 Xu Datong, vice governor of Shaanxi Province and head of the Shaanxi trading delegation, attended the ceremony and delivered speech. Zhao Jing, director of the Department of Commerce of Shaanxi Province, announced the procurement requirements of Shaanxi trading missions. Shaanxi trading missions composed of the delegations from more than 1,800 companies and enterprises participated in the ceremony. Li Hong' an, chairman of Shaangu, signed an agreement with Edward, the chief trader of Trafigura Singapore.
Chairman Li Hong'an thanked the Provincial Party Committee, the Provincial Government, and the Provincial Department of Commerce for building the cooperation platform for Shaanxi enterprises at the CIIE. This is also another concrete practice for Shaanxi province to continue to expand opening-up and achieve high-quality economic development under the new development mode that domestic major circulation is as the main body while domestic and international double circulations promoting each other. Chairman Li Hong'an said that, Shaangu, with the international thinking of "going out, going in, and going up", would focus on the goals and requirements set out in the 14th Five-Year Plan of our country and Shaanxi Province, and would strive to build a global market system, a global R&D innovation system, a global supply chain innovation system, and a global financial innovation system to promote international capacity cooperation and achieve mutual benefit and win-win results, Shaangu and the partners mutually being each other's market and resources.
Trafigura was founded in 1993 and headquartered in Singapore. It is the world's second largest independent non-ferrous metal concentrate trading company and the world's third largest independent oil trading company.