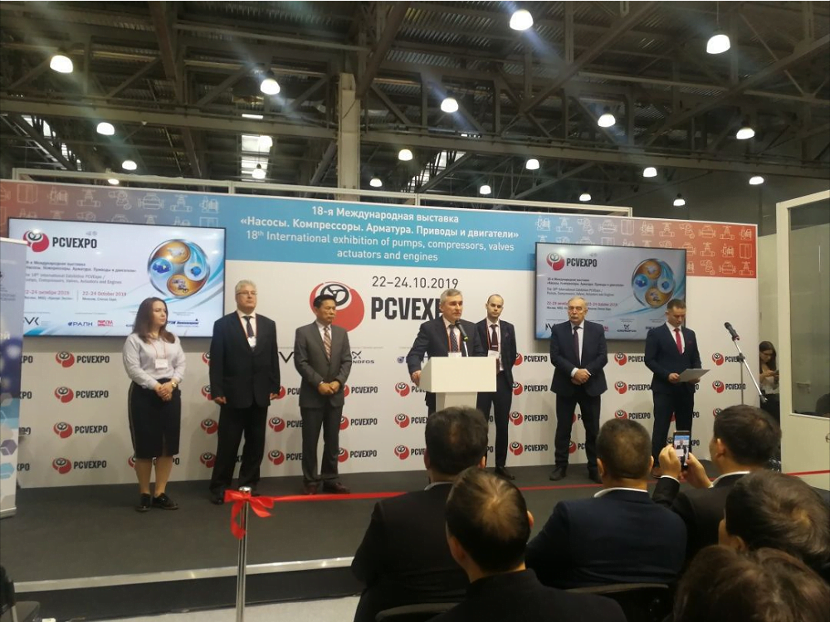 The 18th International Exhibition of Pumps, Compressors, Valves, Actuators and Engines kicked off in Moscow on 22 Octomber, 2019. The three-day event attracted exhibitors from nearly 150 countries worldwide.  
Shaangu, as a distributed energy system solution provider and system service provider, made a stage pose on the show with its energy-saving and environment-protection products such as BPRT, SHRT, blast furnace blower and energy recovery turbine unit, nitric acid "Four in One" machine train, and distributed energy system solutions of "specialization + integration", showcasing China's high-end equipment and wisdom to the world.
This exhibition, which is held every year and it has been held for 18 consecutive sessions, is the most influential international exhibition of industrial and civil pumps and valves, compressors and power equipments in Eastern Europe and Russia. The compressor exhibition unit shows equipment covering various fields such as petrochemical, metallurgy, coal and chemical industry.
On the very first day of exhibition, the Shaangu booth attracted many visitors to stop and learn. Many partners from Russian metallurgy, petrochemicals and oil & gas came to Shaangu booth to have in-depth business communication with Shaangu staffs and express cooperation intention. The booth layout and reception details were praised by the Russian partners.
Mr. Song Yinli, deputy secretary-general of CGMA, attended the opening ceremony of the exhibition as honored guest and delivered a speech on the same day. Mr. Song also visited, together with the leaders of PVC exhibition sponsor, the Shaangu booth and learned about the development of Shaangu and its development in Russian market, and expressed affirmation to the achievements of Shaangu and its overseas market layout.  
At present, Shaangu has won a number of projects in Russia in the fields of metallurgical industry, nitric acid industry and petro-chemical industry, etc., out of which, the nitric acid "Four in One" machine train is the first set of nitric acid unit exported from China to Russia. Blast furnace top pressure energy recovery turbine unit (TRT) supplied has been operating in Russia for 11 years with excellent performance. In the future, based on the close cooperative partnership between China and Russia and the prospect of the Russian market, Shaangu energy saving and environmental protection products and system solutions will better facilitate the high-quality development of Russian partners.