Xi'an is the starting point of the ancient Silk Road and the crucial node city of the "Belt and Road", and where Shaangu is located. In recent years, Shaangu has actively explored the Central Asian market, Shaangu's energy-efficient green products and system solutions & services have been successively applied in Kazakhstan, Kyrgyzstan, Uzbekistan and so on.
Shaangu actively participates in the implementation of the "Bright Road" project in Kazakhstan. Shaangu has delivered several sets of large-scale axial compressor units and relevant system services for Kazakhstan's oil refining plant. These units have been successfully commissioned at the user's site, and all performance parameters have reached international advanced level, which has been unanimously approved by the user. Shaangu signed a memorandum of strategic cooperation with a customer from Kazakhstan, and the both parties will start in-depth cooperation in the fields of green energy, chemical industry, metallurgy and sewage treatment in Kazakhstan. At the Astana Expo held in Kazakhstan, Shaangu presented its "Energy Interconnection Symbiosis System" solutions and LNG green energy-saving products, showing the new image of Chinese energy enterprises to the world ……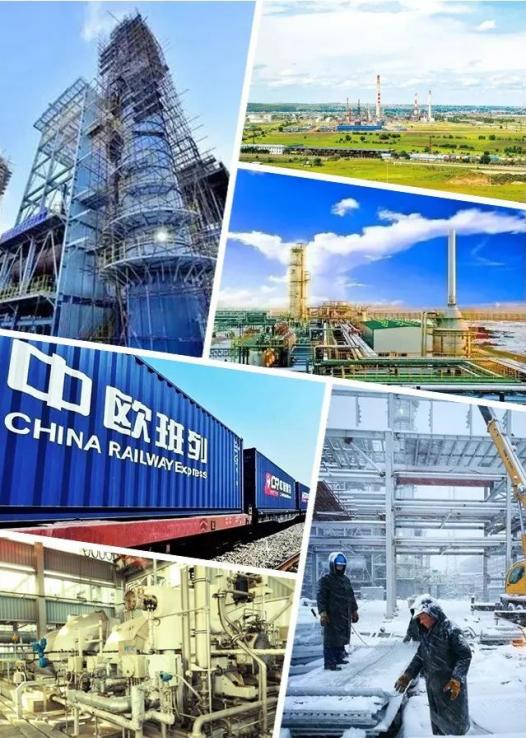 During continuously deepening of the cooperation, let's expatiate the Shaangu's "Changing" and "Unchanging".
Services are changing   Continuously upgrading
Shaangu continuously focuses on users' needs and changes in demand, and tailors personalized system solutions for users, extends service fields, expands service boundaries through innovation in service technologies and service models. Shaangu is providing more efficient, precisely-targeted, convenient, professional, comprehensive and caring intelligent services to users all over the world.
Technologies are changing   Continuously innovating
As one of the 51 key projects of China-Kazakhstan production capacity cooperation, Shaangu undertook the second phase of the refinery modernizing retrofit project for a large chemical enterprise user in Kazakhstan, providing power equipment and distributed energy system solutions and services for its catalytic cracking unit. With elaborate design, strict management&control and attentive services, Shaangu tailor-made the system solution for user based on Kazakhstan's national conditions and relevant policies. After 252 days of relentless struggle, the plant was successfully put into operation at one time and the refinery's production capacity reached 6 million tonnes/year, further safeguarding the supply of refined oil products in Kazakhstan.
 Unchanging green   Low-carbon&environmental
Centered by the distributed energy system solution, Shaangu has created intelligent green system solutions, integrating seven value-added services, namely equipment, EPC, services, operation, industrial value-added chain, intelligence and finance. Shaangu also innovated the  own intelligent green solution of "Energy Interconnection Symbiosis System"(EISS hereinafter) to help customers in process industries, smart city, "the Belt and Road",etc. achieve the best comprehensive energy efficiency indicators. Shaangu combines the world-class energy storage technology with the Shaangu's EISS technology that won the "China Grand Awards for Industry", provides customers in the petrochemical industry with low-carbon, energy-saving intelligent petrochemical EISS solutions, which effectively help chemical parks and petrochemical enterprises reduce costs, carbon and increase profits.
Striving for quality  Pursuing excellence
All along, Shaangu has been paying close attention to quality management, promoting the "zero concession" work of product quality, deeply implementing the "zero defect" quality management principle, further enhancing employees' quality awareness, standardizing quality behavior, eliminating the unexpected use or delivery of non-conforming products, reducing quality risks, and improving users' satisfying experience. The high quality, high standard and high level of Shaangu have also been well confirmed by users. Shaangu received letters of thanks from thousands of miles away. Users expressed their gratitude to Shaangu for actively participating in the construction of the "the Belt and Road" key projects and helping implement the "Bright Road" program in Kazakhstan, and praised Shaangu for fully demonstrating the excellent corporate image of Chinese equipment manufacturing enterprises that are courageous, tenacious and cooperative.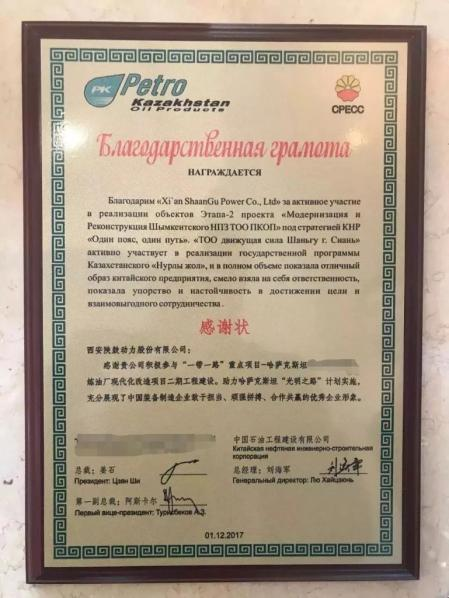 This year marks the tenth anniversary of the "the Belt and Road" initiative. Central Asia is the first place to launch the "the Belt and Road" initiative, and Xi'an is the starting point of the ancient Silk Road. Shaangu will firmly grasp the current opportunities, work and progress together with users from Central Asian countries, continuously deepen cooperation, and expand new space for high-quality development.